In this age of on-the-fly communication (e-mail, instant messages, voice mail) do you ever wish for a way to stop the rush and to put into writing all that is important to communicate to those you care about the most?  In this age of instant-this and throwaway-that, do you ever worry that what is of most value can survive our warp-speed culture?
Take heart.  In the midst of the craziness of modern life is the re-emergence of a lovely, old-fashioned, low-tech instrument for making sure that nothing really important to us and our families gets "lost in the cracks" of our lives and between the generations.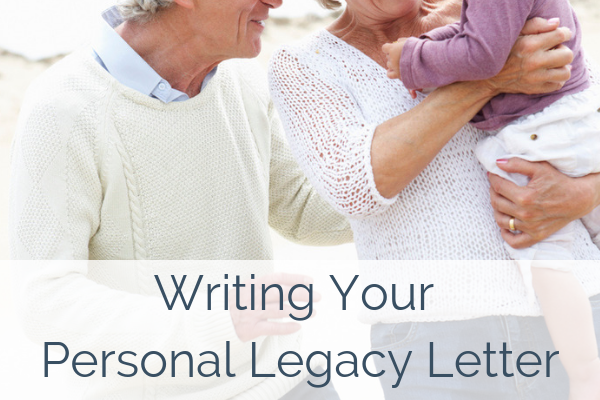 This instrument is called an Ethical Will or "personal legacy letter." In medieval times, Jewish men wrote letters to their sons, passing on guidelines for living a worthy life.  These legacy documents were called Ethical Wills and provided meaningful and enduring communication between generations.
Today, people of all ages and backgrounds are rediscovering this beautiful and sensible tool, appealing because it provides thoughtful adults the opportunity to reflect on their own lives for the benefit of those who will follow them.
An Ethical Will isn't a legal document, but rather a concrete tool for personal expression that is a valuable complement to your legal and financial planning documents.  After all, those official documents only address, "What do I want my loved ones to have?," but an Ethical Will addresses, "What do I want my loved ones to know?"
An Ethical Will is elegant in its simplicity.  Your personal legacy letter can be merely a page saying, "You are wonderful and if anything happens to me, I want to make sure you always know that."  Or it can be longer if you wish to share some family history, provide human context to the money that will be inherited down the line, or share some of the lessons you have learned.
What matters most is that you have put something down in writing so that the last words your loved ones have from you are not the cold legalese of your legal will. Here are some tips for getting started:
Start today—If you weren't here tomorrow, what is the most important thing you would not want left unsaid?  Write it down—now you've begun!
Relax—You are not trying to win the Pulitzer Prize.  Your letter is a gift of yourself, written for those you love, not for an imaginary panel passing judgment on your life or your writing.
Ask yourself—What do I want to make sure my loved ones know and have in writing?
Take it topic by topic—Don't try to write it all at once.
Be yourself—You cannot bequeath what you never owned.
Be careful—The reach of your letter is unknowable.
Share it!—Let everyone enjoy it while you are alive.
Editor's Note:  Susan Turnbull is the author of The Wealth of Your Life: A Step by Step Guide to Creating Your Ethical Will and principal of Personal Legacy Advisors, LLC: www.personallegacyadvisors.com
Reprinted by permission of Money Quotient, NP